AS/400 and System i Software Development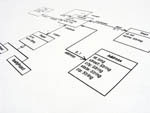 Applied Logic specializes in developing software for the AS/400, iSeries and System i computers. Our experience goes back to our beginning, initially providing custom solutions for the S/3, and then developing software for the S/34, S/36, and AS/400. Our professional team boasts extensive experience in a wide variety of industries, developing custom applications as well as maintaining and interfacing with other applications. Our staff is proficient with the conversion of legacy RPG appications, current RPG ILE development techniques and modernization with PHP, Zend Framework, and other technologies. Please contact us to discuss how our team can work for you.
Areas of Expertise
Systems Analysis and design
RPG, RPGLE, CLP, SQL, etc.
Custom DB2 databases and applications
PHP and Zend Framework
Report writing
System configuration and upgrades
J.D. Edwards / PeopleSoft / Oracle
RentalMan
Application interfaces
EDI and data feeds
Crystal Reports
More

Please
Contact Applied Logic
to discuss how we can be of assistance.