Network and Desktop Support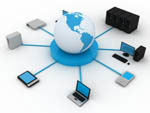 Applied Logic specializes in developing, implementing and maintaining Windows networks - from small businesses with a handful of workstations to large multiple location enterprises. With expertise with Microsoft's BackOffice suite, Internet Information Server (IIS), communications methodologies, and numerous other related technologies, Applied Logic can meet the network implementation and ongoing support needs of your organization.

Experience & Expertise

Applied Logic enables you to run your business efficiently and effectively with a full range of hardware, software and support services.
Areas of expertise include...
Local area networks
Wide area networks
Microsoft
Virtual Private Networks (VPN)
Internet and Intranet
Capacity planning
Data Recovery
Backup solutions and strategies
Virus protection
Security and firewalls
Email, messaging, and collaboration
Communications
Hardware and software procurement and installation
Troubleshooting
Complete desktop support
Please
Contact Applied Logic
to discuss how we can be of assistance.