Solutions that Meet Your Organization's Needs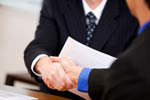 At Applied Logic Corporation, we know that effective management of complex information technologies is crucial to your productivity, success and growth. Working with Applied Logic, your IT projects can receive the timely and professional attention they require. We can partner with your team to provide the resources you require to develop and maintain your hardware and software infrastructure.

Consulting and Programming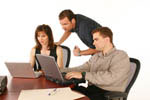 Applied Logic offers extensive experience in a wide range of industries and with various computer platforms and software. We have specialized for many years as software developers for the AS/400, iSeries and System i. Other areas of expertise include Visual Basic, Access database programming, Crystal Reports, and more. In addition, Applied Logic can offer advanced web development services and Linux expertise. Please
contact us
to discuss your needs.
Network and Desktop Support

Your computer systems form a vital backbone for your business. Applied Logic offers the experience and resources to ensure that your network efficiently and smoothly does its job. Our team of professionals is available to design and implement new networks and servers and maintain existing network and desktop systems. In addition, we offer solutions for security, remote access, communications, and more. Please
contact us
to discuss your needs.